Statelessness (Introductory)
CPD Points:

2

Time to Complete:

2 hours
About this course
This course was published in February 2023.
Statelessness remains a big problem globally with an estimated 10-15 million people living without any nationality. People who are stateless are often denied the fundamental human rights that others take for granted, including access to education, employment, freedom of movement, property rights, social welfare and healthcare.
This training course is aimed at practitioners and organisations working with potentially stateless people who may have limited or no expertise in this relatively niche area of immigration and human rights law. By the end of the course, you will have an understanding of the causes of statelessness, the protections in place in international law and the UK's statelessness determination procedure.
The course is only available to paying members of Free Movement. If you are not already a member, you can join here and access not just this course but all of our courses. Membership starts from £22 plus VAT per month, or £220 plus VAT for annual membership, and you can cancel at any time. We also offer corporate and group membership options.
Modules within this course
What is statelessness?

This module gives an overview of what it means to be stateless and why statelessness occurs. It considers the scale of the problem globally with examples of stateless populations in each geographical region, and introduces the international treaties in place to protect stateless populations.

Legal framework

This module looks at Part 14 of the Immigration Rules, breaks down the definition of "statelessness" and considers the requirements that must be met by an applicant. It also considers the burden and standard of proof in statelessness leave cases, the exclusion clauses and general grounds for refusal. 

Stateless leave applications in the UK

This module looks into the practicalities of making an application for leave to remain in the UK as a stateless person. It covers evidence, applications from children and family members, grants of leave and refusals, and other applications that may be made along side an application for stateless leave.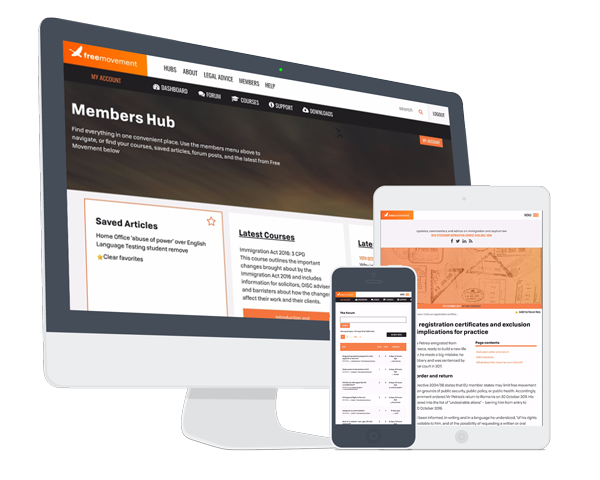 A great deal of time and effort goes into producing the information on Free Movement, become a member of Free Movement to get unlimited access to all articles, and much, much more
Join now and get access to all our training modules for free.
By becoming a member of Free Movement, you not only support the hard-work that goes into maintaining the website, but get access to premium features;
Access to all our online training materials
Downloadable CPD certificates
Single login for personal use
FREE downloads of Free Movement ebooks
Access to all Free Movement blog content
Access to our busy forums
Become a member