Advising Employers: Right to Work Checks (Introductory)
CPD Points:

1

Time to Complete:

1 hour
About this course
This course was published in May 2023.
Over the years, employers of migrants have faced an ever-increasing battery of penalties for failing to carry out right to work checks and other duties outsourced to them by the Home Office. Possible consequences include fines, closure of businesses and even criminal prosecution.
With this in mind, this short course will take you through the key areas where employers will most often need help and advice: completing compliant right to work checks and specific actions they can take to the prevent illegal working. It is designed for immigration representatives who are new to this area and would like to get a handle on the basics.
The course is only available to paying members of Free Movement. If you are not already a member, you can join here and access not just this course but all of our courses. Membership starts from £22 plus VAT per month, or £220 plus VAT for annual membership, and you can cancel at any time. We also offer corporate and group membership options.
You can check out the course contents below.
Modules within this course
Introduction

This module introduces the hostile environment for migrants in the UK and the penalties faced by employers for failing to carry out right to work checks outsourced to them by the Home Office. We will consider the relevant legislation.

The checks

This module covers right to work checks and how they are carried out: manually and online. We will also cover checks using Identity Document Validation Technology. 

Section 3C leave

This module covers the application of section 3C leave: the protection of a migrant's right to work and rent while they await a decision on an extension or switching application.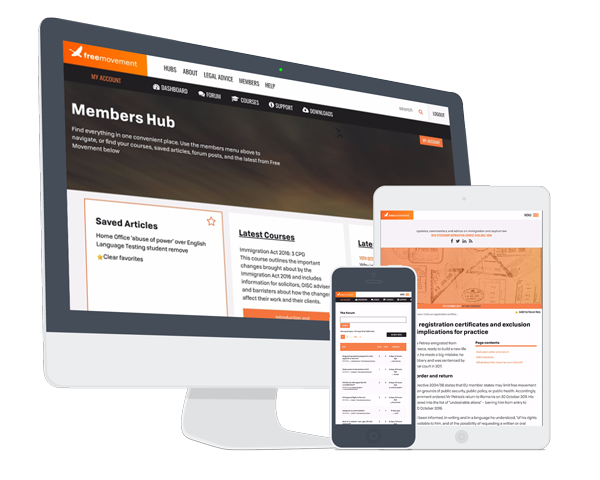 A great deal of time and effort goes into producing the information on Free Movement, become a member of Free Movement to get unlimited access to all articles, and much, much more
Join now and get access to all our training modules for free.
By becoming a member of Free Movement, you not only support the hard-work that goes into maintaining the website, but get access to premium features;
Access to all our online training materials
Downloadable CPD certificates
Single login for personal use
FREE downloads of Free Movement ebooks
Access to all Free Movement blog content
Access to our busy forums
Become a member