Immigration Bail (Intermediate)
CPD Points:

3

Time to Complete:

3 hours
About this course
This course was last updated in June 2019.
There are few circumstances where the UK authorities are permitted to hold people against their will – one of which is immigration detention. In 2018, almost 25,000 people were detained under immigration powers across the UK's detention estate, with around 1,800 people detained at any one time. These stark figures represent a concerning proportion of the UK's migrant population. Over half of these people were granted release back into the community – the vast majority under immigration bail.
In 2018, the immigration bail system was overhauled. Temporary release and admission were scrapped, and replaced with a single power of immigration bail. The process for applying for bail from inside detention largely remains the same, but the nature of bail has been turned on its head, allowing the Home Office to regulate those without leave to remain but who cannot be detained.
Immigration bail hearings can feel like a lottery – clients will ask why they are still detained when they have seen other people released weeks or months earlier. To some extent immigration bail is a lottery. Different Tribunal hearing centres have very different grant rates and individual judges can adopt very different approaches.
This course is for lawyers, caseworkers and those supporting people in detention who are making an application for immigration bail, and is designed to set out the legal framework and the practicalities of applying for bail, giving examples along the way.
The course is only available to paying members of Free Movement. If you are not already a member, you can join here and access not just this course but all of our courses. Membership starts from £22 plus VAT per month, or £220 plus VAT for annual membership, and you can cancel at any time. We also offer corporate and group membership options.
For developments since this course was last updated, check Free Movement articles tagged "immigration bail".
Modules within this course
Introduction to immigration bail

Introduction and overview.

Immigration bail applications

Nuts and bolts of a bail application

How to apply for Secretary of State bail

Applying for immigration bail to the Home Office

How to apply for First-tier Tribunal bail

Tribunal bail applications

After bail is granted

Other types of hearing around immigration bail.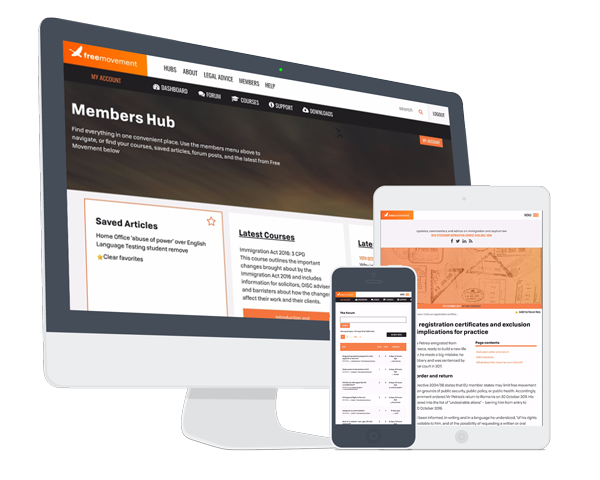 A great deal of time and effort goes into producing the information on Free Movement, become a member of Free Movement to get unlimited access to all articles, and much, much more
Join now and get access to all our training modules for free.
By becoming a member of Free Movement, you not only support the hard-work that goes into maintaining the website, but get access to premium features;
Access to all our online training materials
Downloadable CPD certificates
Single login for personal use
FREE downloads of Free Movement ebooks
Access to all Free Movement blog content
Access to our busy forums
Become a member