Fresh Claims by Asylum Seekers (Intermediate)
CPD Points:

2

Time to Complete:

2 hours
About this course
This course was last updated in December 2022.
Only a relatively small number of asylum seekers who have their claims for asylum refused and/or lose their appeal are forcibly removed. Government policy is to cut off their accommodation and support and hope that they leave the UK of their own volition. The reality is that some remain in the UK, and some will make a subsequent claim for protection.
This is often referred to as making a "fresh claim" for asylum. In fact, the process involves making further submissions to the Home Office to argue that the material presented this time round is significantly different from the first time round. Only if this test is met will the further submissions actually amount to a fresh claim.
This course covers the making of further submissions with a view to having them recognised as a fresh asylum claim. We will look into the law and process, and what legal representatives should consider in order to present the best case for their clients.
The course is only available to paying members of Free Movement. If you are not already a member, you can join here and access not just this course but all of our courses. Membership starts from £22 plus VAT per month, or £220 plus VAT for annual membership, and you can cancel at any time. We also offer corporate and group membership options.
You can check out the course contents below.
Modules within this course
Law and process

This module introduces the fresh claims process and the law set out at paragraph 353 of the Immigration Rules.

Fresh claims in practice

This module looks at the practical steps and considerations for legal representatives when preparing fresh submissions for a client.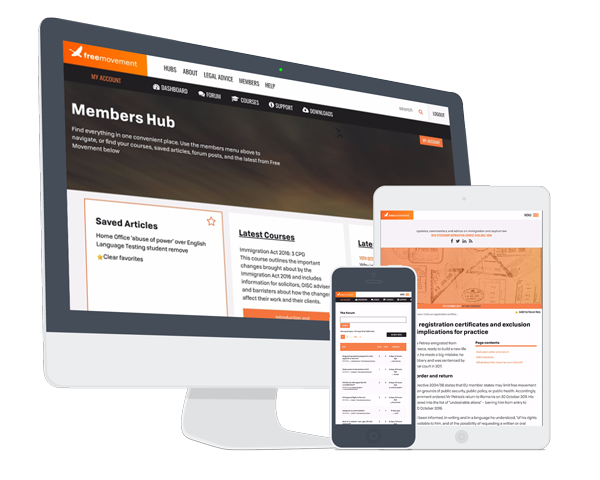 A great deal of time and effort goes into producing the information on Free Movement, become a member of Free Movement to get unlimited access to all articles, and much, much more
Join now and get access to all our training modules for free.
By becoming a member of Free Movement, you not only support the hard-work that goes into maintaining the website, but get access to premium features;
Access to all our online training materials
Downloadable CPD certificates
Single login for personal use
FREE downloads of Free Movement ebooks
Access to all Free Movement blog content
Access to our busy forums
Become a member