Advanced: Deportation of non EU and EU nationals: 4 CPD
About this course
This course was last updated in August 2018.
Welcome to our course on deportation law! We cover the law and rules on deportation of non EU and EU citizens, including the complex statutory framework, overlapping immigration rules, automatic deportation, revocation of deportation orders, out of country appeals and leading case law. We used worked examples throughout and offer optional deep dive analysis of the more complex bits of law.
Check out the course contents below, and our December 2021 article for an update on recent developments in this area.
This course is only available to paying members of Free Movement. If you are not already a member, you can join here and access not just this course but all of our courses. Membership starts from £20 per month and you can cancel at any time.
Modules within this course
Statutory framework for deportation

Covering the legal power to deport a foreign national, the exceptions to the power to deport, the law on automatic deportations and the deportation framework in the Immigration Act 2014.

Deportation and the European Convention on Human Rights

Covering the Immigration Rules on deportation of non EU nationals, including the rules on revocation of a deportation order, and the key cases on the relevant considerations in deportation cases.

Deportation under EU law

Covering deportation of EU citizens and their family members under the Citizens Directive and under the Immigration (European Economic Area) Regulations 2016.

Out of country appeals

Covering out of country appeals for both non EU and EU nationals including statutory framework, Home Office guidance and exceptions and key cases such as Kiarie and Byndloss.

Revocation of a deportation order

Covering the rules and case law on revocation of deportation orders.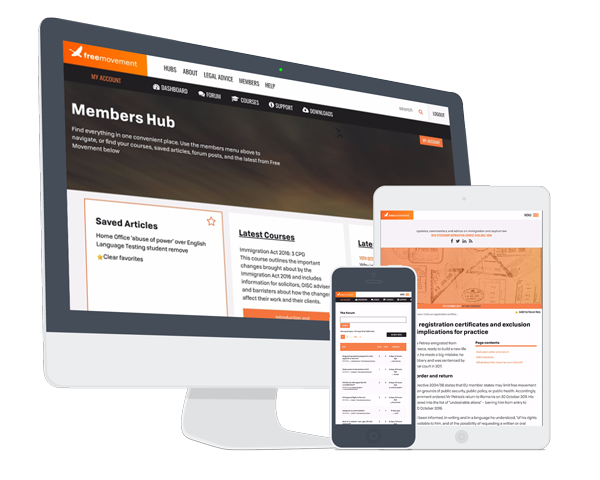 A great deal of time and effort goes into producing the information on Free Movement, become a member of Free Movement to get unlimited access to all articles, and much, much more
Join now and get access to all our training modules for free.
By becoming a member of Free Movement, you not only support the hard-work that goes into maintaining the website, but get access to premium features;
Access to all our online training materials
Downloadable CPD certificates
Single login for personal use
FREE downloads of Free Movement ebooks
Access to all Free Movement blog content
Access to our busy forums
Become a member