Introduction to refugee family reunion: 2 CPD
About this course
This course was last updated in March 2022.
When someone is granted refugee status in the United Kingdom this opens up the possibility of the refugee sponsoring family members to join him or her in the UK. This is often referred to as "refugee family reunion". There are special rules from which refugee family members benefit and a specific set of paragraphs of the Immigration Rules which apply to such cases.
This online training course covers the nuts and bolts of refugee family reunion applications, who can apply, the requirements to meet, avoiding refusals and how to appeal.
The course is only available to paying members of Free Movement. If you are not already a member, you can join here and access not just this course but all of our courses. Membership starts from £20 per month and you can cancel at any time.
For developments since this course was last updated, check Free Movement articles tagged "family reunion".
Modules within this course
How to apply for refugee family reunion

How to apply for refugee family reunion from inside and outside the UK

What requirements must be met

Covering the general criteria that have to met to qualify for refugee family reunion and then the criteria for different types of family member

Who can sponsor an application

Covers the rules on what type of refugee or person granted protection can sponsor a family member for refugee family reunion

Avoiding refusals

Looks at some of the classic reasons for refusal of refugee family reunion applications and how to try to deal with such issues at the application stage, or if necessary on appeal

Challenging refusals

Looks at how to pursue an appeal or other legal remedy against refusal of an application for refugee family reunion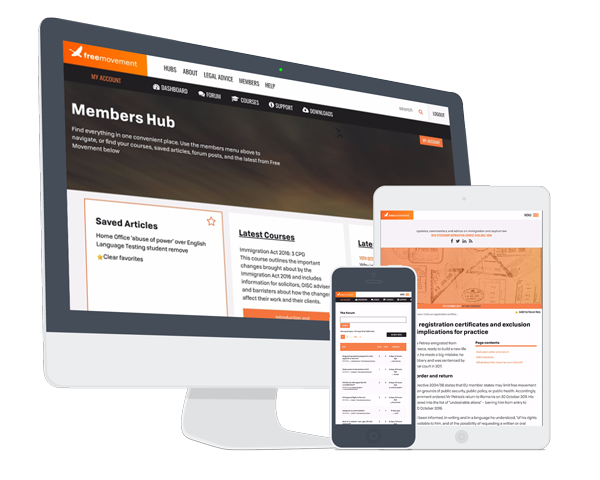 A great deal of time and effort goes into producing the information on Free Movement, become a member of Free Movement to get unlimited access to all articles, and much, much more
Join now and get access to all our training modules for free.
By becoming a member of Free Movement, you not only support the hard-work that goes into maintaining the website, but get access to premium features;
Access to all our online training materials
Downloadable CPD certificates
Single login for personal use
FREE downloads of Free Movement ebooks
Access to all Free Movement blog content
Access to our busy forums
Become a member