Intermediate: Article 8, the Immigration Act and the Immigration Rules: 2 CPD
About this course
This course was last updated in May 2017.
The purported incorporation of Article 8 into the Immigration Rules in July 2012 has caused considerable confusion for lawyers and judges and generated much ongoing litigation. This course reviews the old and new case law and looks at some of the available arguments when attempting to run a 'traditional' human rights case.
The course is only available to paying members of Free Movement. If you are not already a member, you can join here and access not just this course but all of our courses. Membership starts from £20 per month and you can cancel at any time.
You can explore the course contents below.
Modules within this course
Statutory considerations

Analysis and commentary on the statutory considerations at Part 5A of the Nationality, Immigration and Asylum Act 2002 inserted by section 19 of the Immigration Act 2014

Private life rules

Examination of the new Immigration Rules purporting to incorporate or reflect the private life aspect of Article 8, including paragraph 276ADE and the deportation rules

Family life rules

Examination of the rules relating to family life and how they purport to reflect the family life aspect of Article 8, in particular Appendix FM

Article 8 case law

Review of the cases that have addressed Article 8 ECHR since the advent of the new Immigration Rules in July 2012, including MF Nigeria in the Court of Appeal.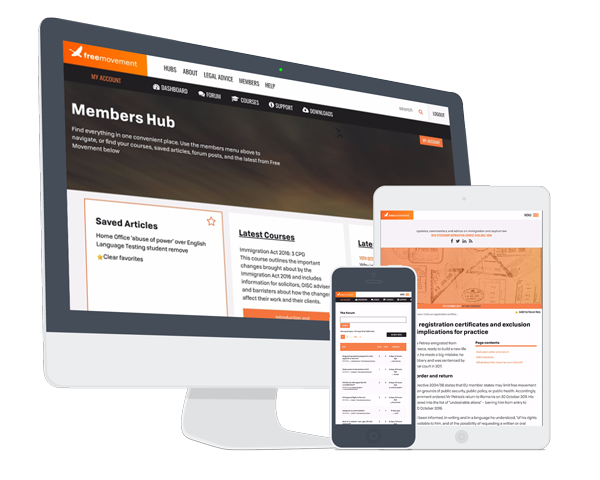 A great deal of time and effort goes into producing the information on Free Movement, become a member of Free Movement to get unlimited access to all articles, and much, much more
Join now and get access to all our training modules for free.
By becoming a member of Free Movement, you not only support the hard-work that goes into maintaining the website, but get access to premium features;
Access to all our online training materials
Downloadable CPD certificates
Single login for personal use
FREE downloads of Free Movement ebooks
Access to all Free Movement blog content
Access to our busy forums
Become a member